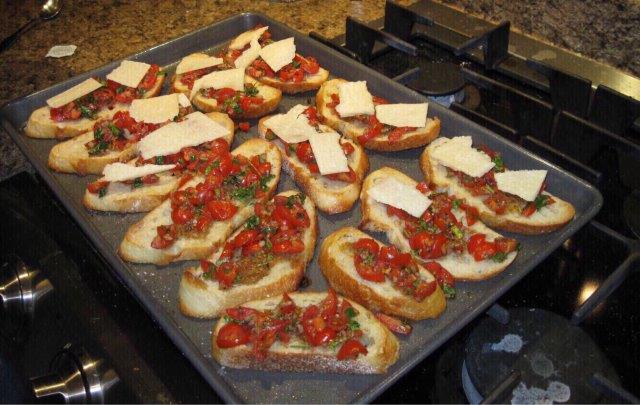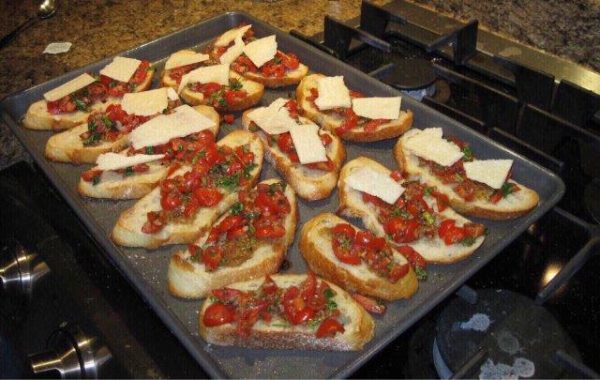 2

Cups

Cherry (baby) Tomatoes

(Chopped)

1/8

Cup

Red Onion

(Finely Chopped)

2-3

Tablespoons

garlic

(Minced)

2-3

Tablespoons

Extra Virgin Olive Oil

(EVOO)

1-2

Tablespoons

Balsamic Vinegar

Herbs De Provence

Salt & Pepper

Sliced (blob) Bread

(Either White or Wheat, recipes in notes)

Parmesan cheese

(Shaved and Optional)
2

Cups

Cherry (baby) Tomatoes

(Chopped)

1/8

Cup

Red Onion

(Finely Chopped)

2-3

Tablespoons

garlic

(Minced)

2-3

Tablespoons

Extra Virgin Olive Oil

(EVOO)

1-2

Tablespoons

Balsamic Vinegar

Herbs De Provence

Salt & Pepper

Sliced (blob) Bread

(Either White or Wheat, recipes in notes)

Parmesan cheese

(Shaved and Optional)
Combine tomatoes, onions, garlic, EVOO, balsamic and spices in a small bowl. (other options: chopped black olives, fresh Italian parsley or cilantro)

Spray a baking sheet with EVOO and sprinkle with salt, place sliced bread in pan and spray tops of bread with EVOO.

Toast bread in 400 degree oven until desired crunchiness is obtained. Remove from oven and spoon on tomato mixture. Top with Cheese - if desired.