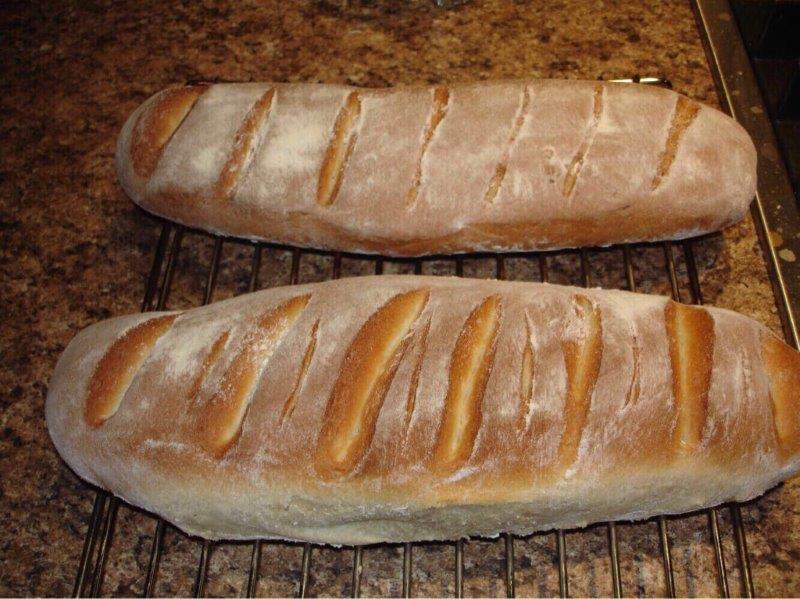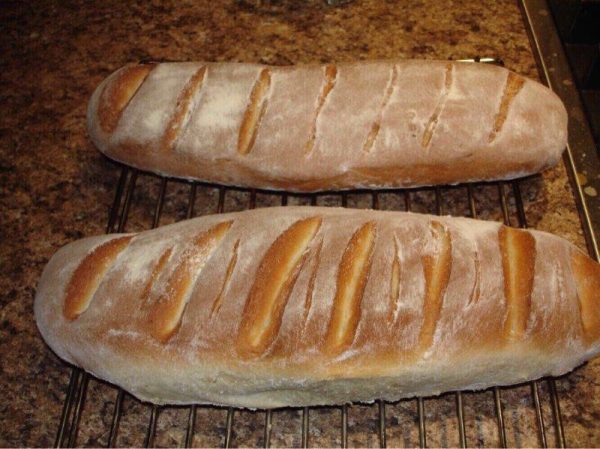 3

cups

Water

(room temp)

1

tablespoons

Yeast

(not fast acting)

2

teaspoons

Salt

(Himalayan sea salt)

6

cups

White flour
3

cups

Water

(room temp)

1

tablespoons

Yeast

(not fast acting)

2

teaspoons

Salt

(Himalayan sea salt)

6

cups

White flour
In a large Tupperware bowl dissolve yeast into water and let set for a 5 minutes. Add flour and salt and mix well (add a few extra tablespoons of water if you need to). Cover with a loose fitting lid and allow to set at room temperature overnight or until dough raises to lid.

Use as much flour as you need to get it out of the bowl & on a well floured surface. Divide half and form into oblong loaves. Cut several diagonal slits on top of each one.

Cover wooden pizza paddle with a piece of parchment paper and place loaves on paddle. Set paddle on heating pad (yep - a household heating pad is my favorite bread making tool) for 1 hour and allow to raise covered with a tea towel.

Place ceramic pizza stone on middle oven rack and shallow pan at the bottom (I use the bottom of my broiling pan). Preheat both to 450 degrees. With paddle, carefully slide loaves onto stone. Add 1/2 cup of cold water into hot broiling pan. Bake for 30-35 minutes.

Allow to cool on rack, or as long as you can. We usually end up eating at least a 1/2 loaf when it's fresh out of the oven.