Note; This site was created while we, David Allender and Peggy Star were going through a massive awakening not completely unlike what everyone will experience if they choose to.  We began receiving irrefutable evidence that God is very real and end times are now. To add to that, we were also being sprinkled with amazing factoids surrounding our lives which led us to believe David and I might have very key roles in YHWHs' plans.  Many of those factoids have to do with 666 which we had recently learned is gematria for "David Allender".  This article marks the beginning of that process in early 2016, the year of 666.

UPDATE; If all of that sounds nuts, we understand, first hand.  That said, no one will be able to refute that FACT after reading our more recent adventure into all this at Issue #119 of the Goyim Gazette. It is undeniable by anyone of sound mind and as we often say; all of this is in fact our reality or, one of us is in a coma and all of this is just an amazing dream.  If the latter, we figure God is telling us to be good while we "live the dream" because He and everything He's told us is still REAL.  Enjoy the ride.

The 2,000 Year Old Question;  Whose Number Truly is 666???
(There Should Be ZERO DOUBT When You're Done Here!!!)

Before Reading On You Must Arm Yourself With a Super Critical Realization;  WE THE PEOPLE HAVE BEEN BRAINWASHED INTO BELIEVING MYSTERIOUS, NUMERICAL MIRACLES AND EVIDENCES OF THE DIVINE, SUPERNATURAL WORLD ARE SILLY OR COMMON WHEN THEY MOST DEFINITELY ARE NOT!!!   Stop and think about this for a moment . . .  for instance; how many times have you been subjected to propaganda in the media and on the internet relating to the number 666 belonging to various famous entities as THE (singular) "anti-christ"?  (even though "christ" is defined as "anointed with truth" which means there are millions if not billions of "anti-christs", haters of truth, NOT JUST ONE!)
Also, our corrupt leaders and their media will say someone's name equals 666 and might refer to a couple more coincidental examples but without fail each and every supposed 666 figure ends with a dead thud instead of continuing on and on and on as we'd expect as ultimate proof from God, THE BEST MATHEMATICIAN AND MIRACLE WORKER OF THE UNIVERSE!  The question on your mind should be who popularized those FALSE EXAMPLES and why?  Could it be that "they" don't want YOU to realize that EVERYTHING YOU'RE ABOUT TO READ CANNOT BE COINCIDENTAL IN NATURE BECAUSE THE ODDS WOULD BE AN IMPOSSIBLE TO CALCULATE QUADRILLIONS OF QUADRILLIONS TO ONE?!
NOTE:  That is not a stretch, no human being, even with the help of a super computer, will likely EVER be able to calculate the impossible mathematical odds behind the miracles in this REAL LIFE story!!!

SO, DON'T LET YOUR BRAINWASHING MAKE YOU QUESTION ANY OF THIS, OPEN YOUR EYES AND REALIZE IT IS 100% REAL/DIVINE!!!  We are going to prove beyond any doubt that 666 is indeed the number of ONE MAN IN PARTICULAR exactly as the Bible says in Rev 13;18?  "Here is wisdom. Let him that hath understanding count the number of the beast: for it is (also) the number of a man; and his number is Six hundred threescore and six".
Note how it says 666 is the number of both "the beast" and "a man", there are obviously TWO entities being mentioned not just one and if you're a Christian or Muslim who's familiar with the words of Yeshua (Jesus) that is something YOU have been brainwashed not to realize for your entire life!  And as you'll see, we've proven conclusively who both of those 666 entities are!  THE FUTURE IS UNFOLDING BEFORE OUR VERY EYES AND THIS IS ROCK SOLID PROOF OF DIVINE INTERVENTION IN "THESE TIMES"!  SEE FOR YOURSELF!!!
OK, we're going to dive right in here.  This first part is something no decent person will be able to read without knowing "something big is up"!  Firstly, I David Allender was born at 8:31am (central time) on Dec 1st, 1964 which happens to be exactly 36 (6x6) yrs, 9 mths, 11 days & 3 minutes from when 9/11 ended with the north tower falling! 9 mths, 11 days is also the exact span of time I was held in jail after the jewbernments' failure to kill Peggy and I in their bogus SWAT raid at our home on 5/29/13. I was out on 3/09/14, a SUNday, without explanation 2 days before my scheduled release!  It was during that guilt free vacation when I had the free time to ghostwrite landmark Issue #s 000 and 111 of the Goyim Gazette with Peggy.  For anyone who hasn't read #000 of the Goyim Gazette or isn't familiar with the story, let us take a brief account of some key facts that prove my innocence in regard to this ridiculous injustice;
It was just 6 months prior on 1.1.13 when I had self published and released about 10,000 copies of the electronic version of my 1st book "The Everything Pages" which was the result of our initial 2 years of research into the world of criminal conspiracies and vatican corruption.  (don't bother reading it, as you'll see at ItsASign.com, we've came a long way since back then!)  That said, even the rudimentary knowledge we had at the time assured I had by then become one of, if not THE most censored individual in the world who the CIA/Mossad was trying to hush in every manner conceivable, short of killing me.  That of course would be their next ploy, albeit a failed one not unlike many more in my "unusual case" which is rife with signs of supernatural intervention.  (Now would be a good time to recall Waco and Ruby Ridge, both of which the victims were good, righteous and outspoken opponents to the corrupt, jewish ran govt. but unfortunately, they weren't as protected as we are now in "these times".)

 Said ploy was initiated by sending one of their coadjutors trespassing onto my property while I was plunking around with a .22 which we often did as was easily witnessed by anyone crossing my property on an upper road just to the north of my home which overlooks the valley in which I reside.  This is how they would be able to accuse me of "SHOOTING AT" someone for trespassing which of course they did.  Discerning minds might ask a few good questions;
Were there any witnesses to corroborate the extremely serious accusation of attempted murder?  NO  (note, they didn't charge me w/attempted murder because no jury in the world would ever convict on it, this is why they have bogus laws of "assault" which have been methodically changed over the years to include "scaring someone" even if that someone is committing a REAL crime against YOU.  Think back to all the old westerns of people firing warning shots for trespassers, Bonanza's Cartwrights and all the others would be charged with 1st degree assault, a felony w/10 year sentences for each trespasser today!)

Was anyone or anything actually shot or even shot at?  NO
Was there any damage or harm to anyone or anything whatsoever?  NO
Were any bullets retrieved from the hillside where they were supposedly fired?  NO
Was there any evidence of a crime whatsoever other than the false accusations of the lying trespassers?  NO
Since there were no scopes on the .22s and David was charged with 3 counts of felony assault, ask yourself if you could see how many people were in a vehicle with tinted windows 400′ away to determine how many counts of whatever crime could be rationally charged as knowingly committed? The answer of course is another NO.
Was the description of David being "a large, heavy set male over six feet tall, older w/white hair and white shirt" accurate?  NO  David stands at about 5′ 9″, is average build, was 48 with dark brown hair and wearing a black shirt!  The idiots described David's friend who was on the porch with his own .22 shooting at targets like they often did which were over 100′ away from the nearest point the trespassers got to after going past SIX NO TRESPASSING SIGNS and sneaking down a half mile of road behind the trees!  (And By The Way, That Friend's Name Was Never Given Up By David!)

Is it possible for 2 experienced men having 18 bullets each in their little semi-auto .22s to completely miss hitting a target as large as a person at 400′ away with all 36 shots on a calm, sunny day?  NO
Is it possible for them to also miss an 18′ long, 7′ tall vehicle (a virtual "barn door"!) at the same range with or without scopes?  NO.  AND THOSE LAST TWO QUESTIONS ALONE IRREFUTABLY PROVE THERE WAS NO "ASSAULT" ACCORDING TO WA STATE LAW;


9A.36.011 – Assault in the First Degree(1) A person is guilty of assault in the first degree if he or she,

with intent to inflict great bodily harm:

(a) Assaults another with a firearm or any deadly weapon or by any force or means likely to produce great bodily harm or death.  (IF THERE WERE "INTENT" TO HARM ANYONE, AT THE VERY LEAST THE TRESPASSER'S BARN DOOR SIZED VEHICLE WOULD HAVE BEEN HIT WITH MOST IF NOT EVERY SINGLE ONE OF THE 36 BULLETS AVAILABLE!  INSTEAD, ONLY 4 SHOTS TOTAL WERE FIRED AT TARGETS 100′ AWAY FROM THE TRESPASSERS AND ALL FIRING CEASED UPON OUR NOTICING THE VEHICLE BEARING DOWN ON THE TARGET RANGE!!!)

Have we just proven beyond a shadow of a doubt there were no shots fired at the trespassers and that this was a frame job?  YES!!!  AND HERE'S THE SUPPOSED VICTIM IN AN INTERVIEW W/MY ATTORNEY ADMITTING THAT HE KNEW HE WASN'T BEING SHOT AT WHICH MAKES HIM A DE-FACTO LIAR WHO IN FACT DID FALSELY REPORT A CRIME WHICH IS ILLEGAL BY OUR LAWS AS WELL AS THOSE DECREED BY GOD WHICH IS BEARING FALSE WITNESS.  MAKE NO MISTAKE, HE WILL SOON BE JUDGED FOR IT!;
The truth is, no shots were fired anywhere near that lying piece of sh*t which is irrefutably proven by the fact NO BULLETS WERE FOUND IN THE AREA but that doesn't even matter because HE JUST ADMITTED THAT HE KNEW NO ONE WAS SHOOTING AT HIM WHICH IS WHAT HE CLAIMED IN HIS BOGUS CALL TO 9/11!
One more kindergarten level piece of evidence comes in the form of the ORIGINAL TICKET issued by the well meaning cop (I assume) who had taken the report from that lying piece of shit Casey Boyd.  After my having told the police I would happily submit my side of the story in a report to them, I later came to learn the officer was commanded by the Sheriff NOT to come up and take said report but rather just issue a ticket without further investigation.  As you can see for yourself that's what he did and it was for 2 MISDEMEANORS which, had I received it in the mail as I should and would have if it weren't for more collusion by corrupt officials in Chelan County, could easily have been fought at my option;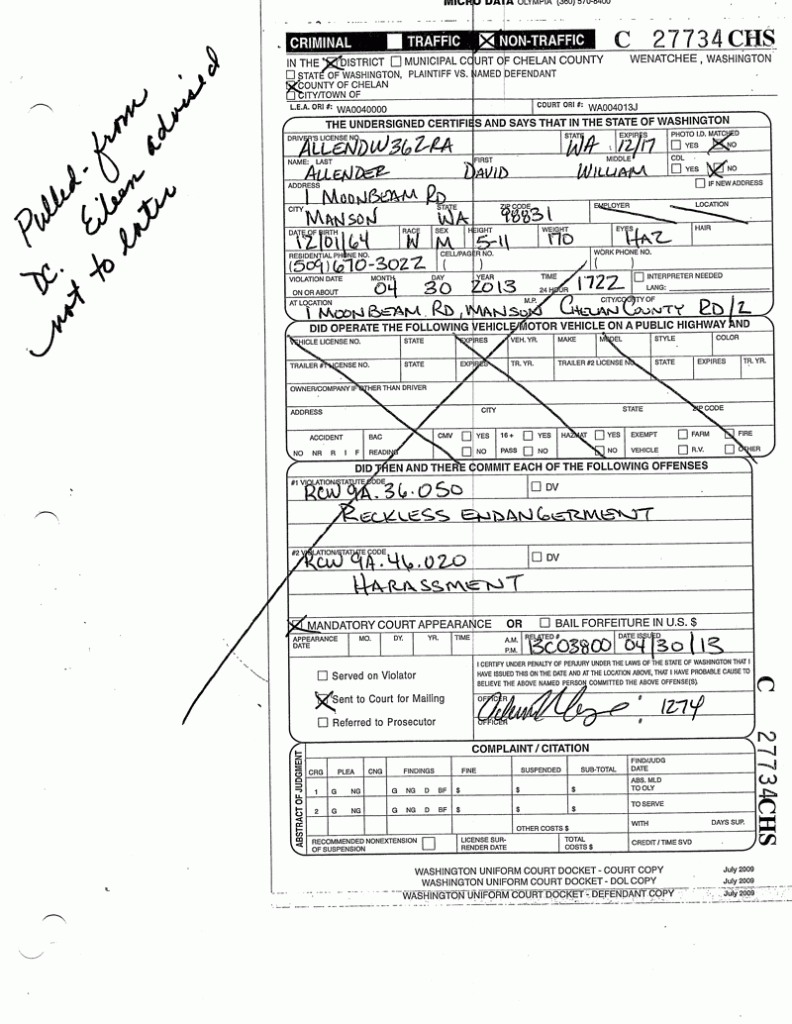 Note there is only ONE count of each misdemeanor in that original ticket and the box "Referred to Prosecutor" is NOT checked which obviously proves illegal coercion on the part of the prosecutor's office.
And more importantly, not only did I NOT receive that ticket in the mail as I should have because the prosecutor illegally withheld it, I WAS NOT NOTIFIED OF IT OR ANY OTHER CHARGES WHATSOEVER, AT ALL.   I DID NOT KNOW ANY CHARGES HAD BEEN PRESSED AGAINST ME UNTIL A 66 MAN SWAT TEAM WITH 3 ARMORED VEHICLES AND 2 SNIPERS CARRIED OUT AN ILLEGAL $1.1 MILLION DOLLAR ASSAULT AGAINST PEGGY AND I WITH THE INTENT TO KILL US 4 MONTHS LATER.  So, instead of allowing that ticket be sent to me as legally necessitated, the corrupt officials of Chelan County pulled it and MANUFACTURED CHARGES FOR A FELONY ASSAULT ON ABSOLUTELY NO FURTHER GROUNDS OR EVIDENCE WHATSOEVER AND THEN WITHHELD NOTICE!!!
That's fine though, and do you want to know why?
BECAUSE GOD KNEW THIS IS WHAT IT WOULD TAKE TO TEACH ME ABOUT THE CORRUPTION IN OUR LOCAL GOVTS AND THAT IT WOULD PISS ME OFF ENOUGH TO SPUR MY PERMANENT, UNWAVERING DEDICATION TO ELIMINATE THIS CORRUPT, RACIST AND PSYCHOPATHIC GROUP OF WORTHLESS, MURDEROUS COWARDS FROM OUR SOCIETY EXACTLY AS IT'S BEEN PROPHESIED BY EVERY MAJOR RELIGION ON EARTH FOR MILLENNIA.

And by the will of God Almighty, that's what I am going to do.
Also, this whole thing was a very good experience for me in many ways, firstly it was the only break longer than 10 days I'd ever taken from work in my 48 years of life, secondly I dropped about 15 lbs that had stuck with me since my early 30s and got very healthy!  So, both my mind and body were refreshed and ready for what was to come next.  Anyone who stops to think about jail will realize it's totally relaxing, there's no work, you're safe, they feed you 3 healthy squares per day and you can do whatever you please which usually includes lots of books to read from their libraries.  The only downside for most is not being able to comfort, protect and provide for their families but aside from that, everything most of us hear is all just fear mongering propaganda.  Looking back I now see many more divine coincidences, such as had I not gone through it I'd never have overcome some critical deceptions in the bible nor would I have gotten many priceless lessons like knowing for fact our local media and the court systems really are corrupted by "satanic jews".  I also got a real decent understanding of how they do things and learned most guards, jailors and bailiffs here in Chelan County (1 of the most corrupt) are good, honorable people, well above half I'd say.
As for judges, prosecutors and public defenders, I can report with absolute certainty they are all corrupt and would not believe for a second it'd be any different in YOUR county. I think it's impossible to put a price on all the knowledge gleaned from experience, my favorite old motto Everything For A Reason really seems to be apt here. FYI; before finalizing these newsletters we bounce them off of a few folks to get their opinions. It's been concluded this issue of the GG is arguably the most dense and best page turner yet! Things are definitely adding up to a much "bigger picture" and I think you'll be awestruck by what you're about to read, these facts have some obviously unexplainable "coincidental qualities" unlike anything we've ever seen. For instance, being a person who'd only read 3 books in his life pre-2011 (aside from the Bible, dictionaries & encyclopedias) it's a given I wouldn't have ever read JFKs' book "Profiles in Courage" were it not for having some unexpected "free time" and the fact it was sitting in my cell, waiting for me to read it! It was just a few months prior on 12/21/12 I'd finished writing the Everything Pages, a book on jewish criminal conspiracies, it was the real reason they attacked us (but the GGs are much, much better due to our increased knowledge now). Getting to the bottom of this lying pile of filth is a major challenge, knowing who's who and not being deceived is no small feat. All hints & helpers are of tremendous value, such as the serendipitous reading of his book. Here's the thing; JFK was one of them, a self-described admirer of Lucifer by his own pen! He was also an ardent supporter of Israel and his family is one of the 13 bloodlines of the jewish Illuminati. These facts explain his sinful and brazen adultery w/dozens of women like Marilynn Monroe, a MK Ultra sex kitten programmed by Bob Hope as a perk for the POTUS! (Pres. of the US) This piece of the puzzle helped me further fathom/accept the reality and depth of our rabbit hole as it should you too. JFKs' assassination was likely an act, a psy-op on WTP that didn't even happen just like Osama Bin Ladens' capture or his burial at sea as well as 100s if not 1,000s more supposed assassinations, arrests, drug ODs & suicides of famous people throughout history covered in their media which popularized all of them to begin with, we're dealing w/liars! Indeed, it is good to have surety in knowing EVERYTHING really is a

lie, even America's favorite leader was a satanic jew con, JFK likely retired on a beach w/Hitler (an ashkeNAZI jew) Elvis and John Wayne! (33° masons)
We're up to our ears in

bullshit and like you, I know that waking up to all the evil and lies around us is surreal. The situation is hard to accept and highly complex to understand but please trust this; learning and embracing the truth, no matter how unpleasant, has great rewards! I believe the manners in which I, and hence you are finding these truths will provide us with a great deal of confidence in the divine nature of our works and steel our resolve in this quest for truth and justice. Yes, I am saying there's something going on here that has to involve a higher power and I think you'll agree the clues we're being given are so convincing there's really no way not to take them and what I can only assume is our greater purpose in this life very seriously. Also, this issue of the GG will hopefully go some distance in providing you with extra surety that we will prevail, those of truth, goodness and righteousness WILL WIN THIS FIGHT. When you're done with this last issue of the GG, you should have 100% surety that We The People are supposed to do this. It's a Sign!!! (hey, I registered itsasign.com as a TM 15 yrs ago for a sign biz!) We're being told we can and should fight evil! And even though our goals are inarguably gargantuan, I know you'll receive a good helping of confidence from what I'm about to share with you. However, reading the 2nd AAA newsletter truly is a prerequisite for connecting the whale of divine coincidences herein. If it's been awhile or you haven't read it, do it now for your own benefit.
That and GG #116 / 666 go hand in hand with bringing all of this home. Doing the research and discovery for all of this is what really steeled our confidence and reading those will do the same for you, it will help you overcome! OK, the self-evident truth surrounding 666 is the fact that ancient humans simply couldn't have known about it or any of the highly advanced mathematics, geometry, architecture, astrology and etc. we find surrounding the Pyramids or how they're entwined into the ancient texts of the Bible and Quran. We're going to retake serious ground here and I really want you to come away feeling empowered and in awe of what can only be the work of a higher power behind all this. And like issue #666, this won't be boring or sound like a sermon because it's not. No "faith" will be required nor will we have to rely on conjecture, most of this is based upon easily verifiable facts, the trick was discovering them by way of utterly amazing and highly unlikely coincidences.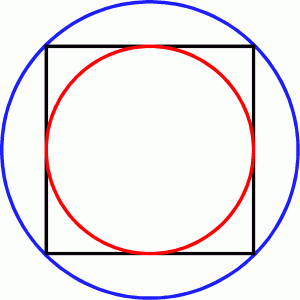 And while some of the information herein is about me, please remember at all times, it is your life story that is unfolding right before our eyes. This comes from the ether for all of us! And given the number and magnificence of the clues, you'll surely agree we have some very worthwhile and divine work to do together. We continue with a couple of coincidences in my contact info which I just now realized my email address has significance. So let's take a look at an email server and domain name I created some 10 or so years ago to get a handle on all the spam circulating back then. My email was/is David@BoxZero.com "BOXZERO" has an obvious relation to the Masonic concept of Squaring the Circle as we did in the 2nd AAA newsletter where we saw the speed of light (299,792,458 mps) encoded in the Great Pyramids' longitude and design by its builders 6000+ yrs ago. The fact I created BoxZero a decade before learning whoever built the pyramids knew the speed of light, Phi, how to square the circle and measure a meter is another coincidence! But the thing is, my life is absolutely rife with this stuff. It is a serious challenge to find anything mundane around us. And the more we look, we find numbers, dates and names surrounding us are key ones favored in the ancient mysteries and embedded in our biblical texts.
About 20 years ago, long before awakening to the jew world order,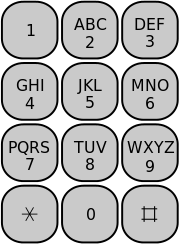 I coincidentally envisioned a new ID system using what I coined as "NumberNames"
(as in "the number of his name???" Rev. 13:17). The TM fits because Numbernames use the Intl. ITU E 1.1161 key pad standard. i.e. if you chose "BOB" as your globally unique NumberName, others would call you at 262 (B=2, O=6, B=2). Another coincidence is the naming of Unified Numbering and Unidigi with a motto of Unite-Educate-Act to create a re-Union for WTP of the USA w/out the jewish United Nations. Kinda feels like we're stealing something precious from the

huh? Let's not forget the original word for jew was a rune similar to

and is pronounced as "you" or "U". So, that's fun huh! Numbernames are alternates to the jew world orders' identification system from a computer they call The Beast in Brussels Belgium and each of their IDs start with 666! So, you can submit to vatican enslavement by their mark of the beast ID or get one of your choosing from your company, Unidigi! See the difference? The jewed vatican and corrupt govt will never have say or control over our IDs or personal info if we simply band together with Unidigi! It's really that simple.
Next we have big coincidences from the Matrix, a movie shot over the course of 1998 (= 666 + 666 + 666). It was about a bunch of evil Artificial Intelligence clones named Smith trying to kill "Neo" (meaning "new"as in new age) Neo was nicknamed as "The One" who would save humanity from evil enslavement. What are the odds the Matrix would be one of only a dozen DVDs I owned then? And that I would pause the movie at the exact spot where the first 5 digits of my

number are highlighted for a split second in the opening scene and that Peggy would notice it because she knows it by heart? And that the character named "Trinity" is who contacted Neo? Is this against all odds? Even I have to ask myself; is this the friggen Matrix?!!? What's this all about? Who is David William Allender?
You'll likely understand I had no choice but to do a little more digging. I honestly didn't want to because this whole thing creeped me out like you wouldn't believe! Nonetheless, here's what I discovered: DA = "The" or "a" in major languages and; VID = "Man who lives in the forest", well I definitely love and live in the forest! An alternate for the "VID" portion in Hebrew is "Vaahd" or Aramic "Waahhid" both meaning One, so, "The One" as famously portrayed in The Matrix!!! There's a noodle baker huh?! Next, William; WILL as in "Free Will" or the "Will of God"? Also, I coincidentally noticed this on the cover of my fairly rare, plus, 1 and only Bible I ever owned (a gift from Peggy!);
IAM as in "I AM the way, the truth and the life". WILL – I – AM ?  And to Finish This Part Up in these biblical End Times we look at my last name Allender which is simply "ALL – ENDER"! I can't tell you how many times in my life I've said "This Shit's Got to End". I simply cannot stand all the wars, greed, injustice, destruction, waste and what I now know is REAL EVIL. I absolutely abhor all of this

crap! I'm here to help YOU, IT'S TIME FOR US TO END THEIR INSANITY!
So, what do you think so far? Is it just me or does all of this seem a bit too coincidental? Let us consider the 866-"HelloDave" toll free number I got for a business "Monster Coffee", which seemed like it'd be memorable for customers. Due to my not liking 6s then, I wasn't crazy about the 866 code but the 800 and 888 versions were taken so, I justified 866 being a decent fit with "Monster". However, "HelloDave" always had a problem of being 2 digits/letters too long which befuddled some folks. But lo and behold, I was driven to pay the $60/mth to keep it for over 8 years unused ($5,760!) and have now learned it also spells "HelloDC" with no extra letters/digits! Hey, that's not bad for a new organization centered on ending corruption in America! Next, let's take a look at my 670-3022 cell phone #. 6 + 7 = 13 which heebs have us thinking of negatively like 666 while using it everywhere in jewish free masonry (i.e. the Great Seal) If we use the zero 6 x 70 = 420 That's the famous term for smoking Cannabis which readers of #115 will recall I experimented with along with Obama and George Washington. Well, since I too cannot tell a lie, when I was a youth, we considered use of Cannabis a form of rebellion to authority figures (cops & teachers) so it was everywhere on t-shirts, in graffiti and in our bright red eyes! They couldn't prove use of cannabis back then so, mocking the authorities in such manners was a fun and safe form of rebellion. But I didn't know jews were behind making it illegal while all of them used it profusely.
And while my grades were always good, there was plenty wrong with school, it felt more like prison than a learning institution. This was when our jewed govt began popularizing huffing of paint & glue, taking amphetamines and barbiturates which I had less than zero interest in. Thankfully, I instinctively steered clear of all that crap and won't even take an aspirin or ibuprofen to this day. And now here I am, fully knowing of the truth about the satanic jews (ie; Hitler, Farben, Bayer, Bauer, Rockefellers etc.) who created big-pharma to sicken and profit on WTP. Hence, anyone taking THEIR DRUGS who thinks Cannabis is bad, IS a brainwashed fool. Do the research, don't be deceived! Start by googling "Rick Simpsons Oil" watch "Run From the Cure". The only reason our best friend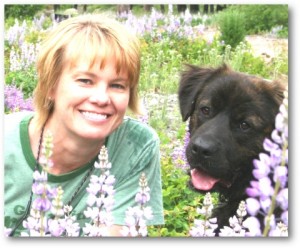 "Bear" is alive today is because of RSO!!! Millions of people are finding out they can cure cancer and 100s of other diseases with this perfectly safe, affordable and 100% natural herb! FYI; we weren't into politics/criminal conspiracies at all prior to 2011. It all began when I got an anonymous voicemail with audio from a rant by Judge Andrew Napolitano on the loss of our Constitutional rights. (It's in my 1st free movie "The Everything Clips" at GoyimGazette.com. along w/24 hours of other banned/censored films!) That voice mail sent me on a fact finding mission to find out if what he was saying was true, it was obviously. So, that's why we started researching

jews and their criminal conspiracies. It was at a time when Peggy and I had just sold our coffee businesses and house. For the first time ever we had a savings for our retirement, it was about $500k which turned out to be yet another critical and perfectly timed coincidence. That money is what allowed us to dedicate all our time into the whale of research required to learn what we have, and to write about it in the GG/AAA newsletters which are already paying our bills. We and others are now set to make millions while saving our world which starts when people are exposed to the truth about the infestation of satanic jewry in our govt, media, net, banking, churches etc. The thing is, not many get anywhere near this point in peeling of the proverbial 

onion which of course is by total design. Along w/all the deception, division, confusion and fear instilled to keep WTP away from the truth, everyone has also been kept too busy and distracted to think about saving our republic, the planet our lives and our souls! (a statement worthy of serious contemplation) So, we knew our job was to find the truth, condense and share it. Some 1,800 books, 600 documentaries and 1,000s upon 1,000s of websites later, here we are! Ours and now yours is a fascinating story is it not?
Is it a coincidence for the person who dreamt up an alternative one number identification system and spent $80k in annual fees on 500 domain names since 1993 (I thought it'd be useful for our govt and society) would be the same person who's blowing the lid off the largest criminal conspiracy in world history? Or that it involves a satanic New World Order and a one number identification system using the 666 number of the beast and that my name = 666? Or that I coincidentally am the first person ever to have completely debunked evil 666 as being a total sham performed against the entire world by evil jews for 2,000 yrs? Sure it's all just a coincidence! Kinda like my reading the entire Bible, cover to cover on a whim at age 8 when I deemed churches evil! Yet I knew God and forever respected/cherished him as being divinely good, the one and only true creator worthy of our absolute respect and awe. (not warring, hateful, racist, bigoted, unfair, deceitful, jealous, petty or naïve as one G-d is depicted in the Bible) And it most surely must be another coincidence that I've always been able to communicate with animals, felt a deep, kindred connection to earth and revel in Gods' word, the truth so much so, that I would and am doing absolutely anything and everything to defend all the above and you? And is it a coincidence that YOU, have found and are comprehending these little newsletters while scores of others have not and cannot? Is God telling us this is our job? Have you been handpicked to do this work? Do our lives have a divine purpose? Is that why you now read on???
The Flood: It was Saturday evening, July 31st 1976 during Colorado's Centennial, my family was on vacation driving west on highway 34 into the Rocky Mountains about an hour NW of Denver when the Thompson Canyon Flood began. It was early in the evening, well before sundown but the canyon went eerily dark from the massive storm clouds above us. It was what's known as a "500 year flood", in this case a years worth of rain came down in just one day, 8 inches fell in the first hour of the storm and driving on the highway was like boating up a river! The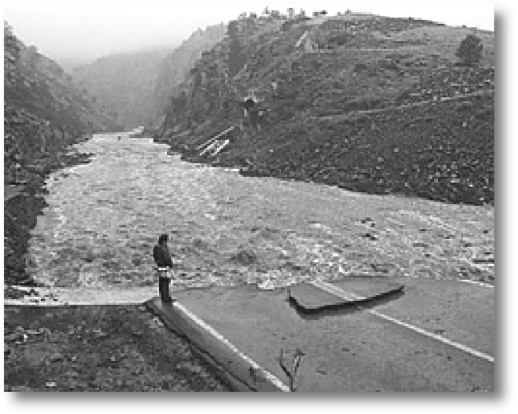 Big Thompson river itself went from 200 Cubic Feet Per Second to 31,000 CFS. I'd never seen such a rain before nor since and doubt many have. It was so intense that the windshield wipers were utterly useless and the only thing that saved us was headlights to see the lines on the road along with the taillights of the car in front of us. We were all forced to slow down to 15 mph so as not to hydroplane on the several inches of water flowing down the highway in front of us while trying to get out of the canyon. I recall thinking of how all the people in the homes and campgrounds we'd passed below would have to climb up the canyon walls to escape and truly imagined all of them would. That along with watching the cop car behind us, ushering the long line of travelers in front of us is a vividly clear memory for me to this day. Later that night while watching the news in a motel, we learned many had actually died and that too was a memorable moment because it was then we fully realized just how close we'd came to being among them.   Our old 66 Rambler was the last car to be ushered out before the road washed away and closed the canyon, 144 people drowned. (144,000 chosen ones, the pyramids' 144,000 stones, New Jerusalem measuring 144 Cubits, and etc. 144s,)
The Drownings; I've drowned to unconscious, unknowing whether near or to death on 3 occasions which I assume isn't common. The 1st time was at the recreation center in my home town where I dove and swam frequently throughout my youth.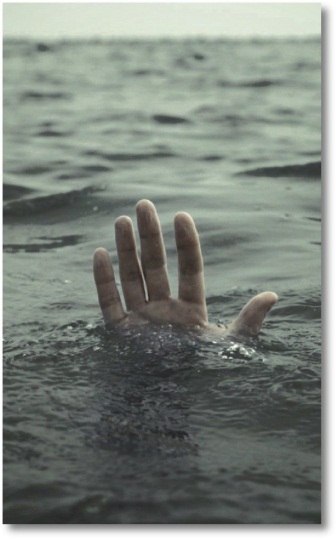 A kid jumped off the high board and hit me with his knee while I was coming up from the bottom. The lifeguards saved me and I don't remember anything other than waking up in the hospital with a concussion and huge lump on my head. The next time was at lake Maloney while being pulled on an inner tube behind a boat which was new to me. While crossing the wake in a turn I lost hold of the rope which caught my left foot during the ensuing tumble upside down. I hadn't a chance to take a breath so, eventually took one of white water which I actually thought was working. Minutes later I awoke on a dock with an older couple doing CPR on me as my friends watched in horror.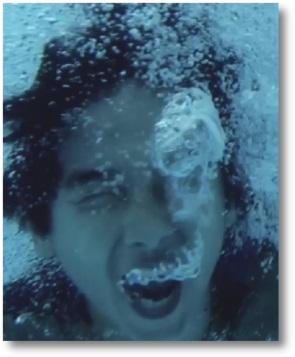 My 3rd experience was at age 11 while canoeing down the Platte River, which coincidently is a tributary of the Big Thompson several hundred miles to the west of where I lived. There were 3 of us, each with his own canoe, mine borrowed, as this was another 1st time experience. The plan was simple enough, just float down the fairly shallow and slow moving river for about 20 miles to a campsite our parents had set up. It was during the spring runoff, we were navigating through some small islands in an area where lots of trees and bushes were submerged and a snag beneath the surface caught my canoe. So, over I went. The water swept me and the canoe to the foremost point of an island into a large bush. I was caught between the canoe and the bush by the current which was slow but extremely powerful against the broad area of the canoe. I was pinned good but not submerged due to a branch protruding upwards from below was holding the canoe up. It broke, the water pushed the canoe and me under another limb forcing everything down. The lower edge of my canoe lined up with my chest which crushed the air out of my lungs. I figured it was the end, and the lights went out. Some seconds or minutes later, I awoke coughing while floating on my back thanks to the life preserver I had coincidently decided to put on for warmth, just moments before the episode began. My young life had been spared again. I've had some other close calls while exploring the many islands of the Puget Sound via sea kayaks and while SCUBA diving in various locations which would raise the hairs on your neck, but it seems 3 times was the charm for actually drowning.
The Rain of Frogs? Aside from the event itself, I'm fuzzy on the particulars surrounding this one but it was the spring of circa 73 in a small Nebraska town I believe to have been "Crete" where my dad had a meeting scheduled. We'd arrived the night before and were walking from the motel to get some breakfast at a restaurant a couple blocks away when it began dumping rain with baby frogs! I've heard people say this doesn't happen and that the frogs are just migrating but that simply wasn't the case. There were many thousands of tiny little frogs landing on us and on the tops of cars, bushes, trees and buildings all over this little town. I recall thinking how odd it was that most were alive and well after having fallen such distance from the heavens. What does this mean? I don't know! It's just another bizarre, unforgettable and unexplainable coincidence among countless others. . .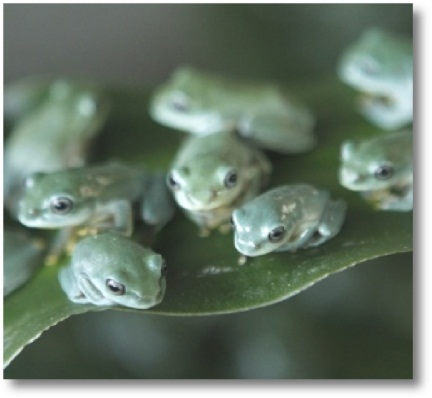 The Fires; Being a lover of the mountain ranges in my birth state of Wyoming I was fairly accustomed to seeing forest fires, albeit they had always been at a safe and comfortable distance. It is for this reason I didn't know how terrifying they were until the fall of 1988. It was then during "The Summer of Fire" when I got caught up in the big blaze at Yellowstone while headed home from Montana where I'd been working as a contractor doing sales, installs and audits for cable TV. I'd pulled off the highway to camp in a somewhat obscure area on a forest road (as I customarily did) and was awakened by a hellish wind storm in which the air was engulfed with heavy smoke and an ominous light in the middle of the night. The tent/camp was packed in minutes.
Small areas of the park had been burning unmanaged for pretty much the entire summer but this windstorm took things to a new level merging dozens of fires into one massively colossal inferno.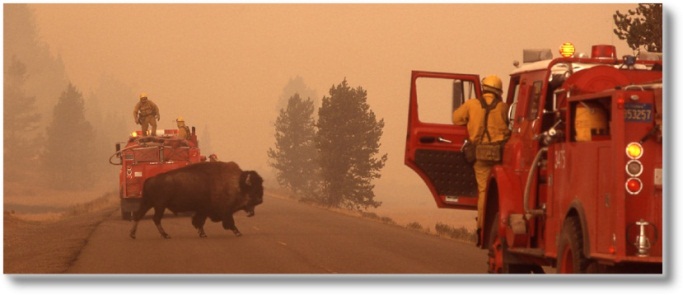 So, there I was, smack dab in the middle of the largest forest fire in U.S. history without any way to call out for help or information.  I drove down to the highway and didn't see a soul around, there was no way of knowing which direction would take me towards or away from the fire which appeared to be everywhere so I chose to keep heading east, my original direction. I drove for at least 10 or 15 miles without seeing a single car which led me to believe I'd chose the wrong direction, but since I had watched the fire cross the roadway in the review mirror twice, there was no turning back. Then came the worst scene imaginable, it was a wall of fire across the highway in a canyon about a mile ahead. There was no choice, so I pegged the gas pedal and bolted toward the flames thinking my engine would likely die from lack of oxygen, that would be my Achilles heel, but if I made it through with some momentum, I'd be ok. Well, here I am typing about it some 26 years later, I punched through the fire and made it to the top of the next pass to look back at an immense area of destruction but to the front was one of the most memorable sunrises of my life! That fire consumed a total of 1.2 million acres, the cost to fight it was $120 million (12=6+6) and it burnt 36% (6 x 6) of the park before God put it out on 9/11/88 with a snowstorm. 9/11 and I are old friends! The guy in charge of intentionally letting Yellowstone burn was Robert Barby, a jew.
Fast forward to 2014 near my home in Chelan Washington;
After watching the jewnited nations chemtrailing the skies over my place since 2011, we coincidently had one of the driest years on record. It was the first time I'd ever seen our creek dry in the spring, and the summer drought commenced. The circumstances were perfect for another highly profitable wildfire to be sparked and managed by the govt's satanic jew agencies. The only thing needed was for one to start and be left alone by officials, then we could have the largest forest fire in Washington state history! Well, sure enough, a fire started, they did nothing and it ended up costing WTP as taxpayers $93 million dollars! Plus, this one was virtually right out my backdoor, a perfect distraction from writing the Goyim Gazette. After all, the dozens of low flying planes and helicopters we now get on a daily basis (where there used to be quite literally none) obviously were not doing the job. Oh, and meet a bear they named "Cinder", one of millions of innocent animals horrifically assaulted by jews in just this one senseless attack on creation. Enough to make you sick, yet???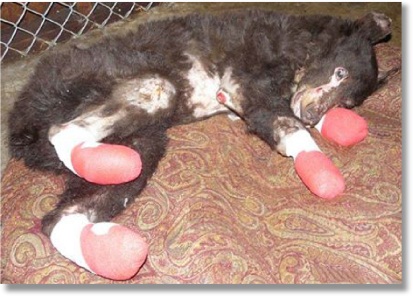 I believe this, the largest fire in WA state history was allowed to spread by satanic jews to kill me while they spent the $93 million of FED dollars on "not fighting" the fire. 100s of residents filed suits, but they won't win and the shitstiens will reclaim another $200 million min. in future profits from selling resources to rebuild 300+ structures. And of course they also had all of the sick pleasures of brutally holocausting (burning sacrifice in Hebrew) countless #s of defenseless animals while terrorizing 1000s of unsuspecting, patriotic citizens! The thing there is I know for a fact that residents of the Methow Valley where this massive fire occurred were highly awakened. Some may not have been jew aware but most were smart, anti-corruption, patriotic and armed. Anyone who has read the 2nd AAA and GG #113 will realize the $93 million spent by the govt on fire fighting equipment for absolutely nothing was just another "stimulus plan" for the kikes who own the FED. And letting a ¼ million acres of Gods' creation burn while having a shot at taking out my house were just bonuses. If you're having a mental spasm trying to accept this brazen display of jewish evilness, consider the fact that prior to this our county has never lost a single structure to wildfires! So, this wasn't normal and coincidently they were foiled again from taking my home!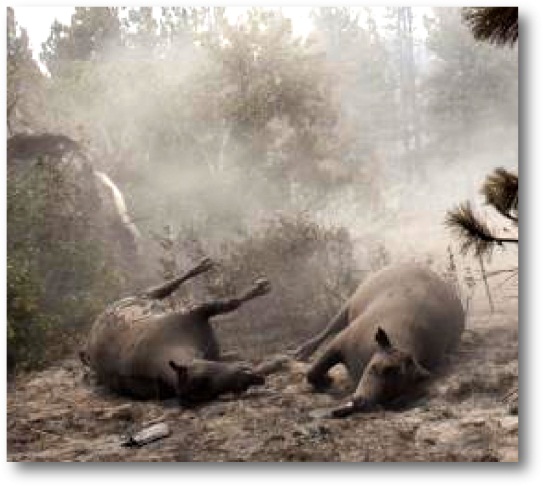 After watching the inferno of insanity for 11 days, I finally got fed up and "declared" it would end and our property would not burn.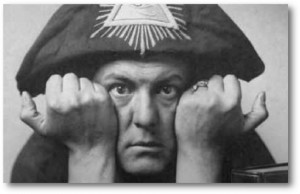 Coincidently, we then watched how God immediately turned a clear blue evening sky into heavy rain, by morning the entire fire was out! Indeed, there is much going on here that I do not understand but I'm getting some pretty good clues! Right is the infamous pic of Aliester Crowley posing in what appears to be a weird, perplexed state adorned in his "scary masonic garb". The satanic inside joke for the heebs here is they know he was trying to figure things out just like we are. Their kabbalah tells them all about how our world is chock full of amazingly intriguing phenomenon but they're focusing on the evil side of this battle between good (us) and (them). Nonetheless, this is how they've managed to just keep on destroying/raping/pillaging/plundering and profiting on our naivety while We The Dumbed Down People just watched on in horror and disgust, thinking all of it's our fault for overpopulating the planet! Well, the jokes on them, we're coming into the know now at "Godspeed" and we didn't have to sell our souls like they have! It is in this sense I believe I am here to expose some of the greatest mysteries of our lives "for free". Our God doesn't want us being creeps like these idiots, so he's showing us how we can see him and some of his mysteries without selling out or rotting in evil, demonic psychosis like satans' lil helpers. Think about it, we're exploring the same mysteries as Crowley and millions of jew creeps before him, but without evil spells, sacrifices, conjurings, incantations or idolatry and it's pretty darn cool if I do say so myself! God, spirits, angels, sprites, archons, our souls, eternity, heaven, hell, miracles and coincidences are seriously mind bending matters to contemplate, but Our God is making them self-evident and beautiful for us! Hence his, my and assumedly your fascination with all of this, life is amazing! And the big raw truths are humbling, empowering and might we say rapturous! Yes, this is the "rapture" and it's only for those who seek the way, the truth and the life, for them all will be known. Cherish the truth! Have faith in God!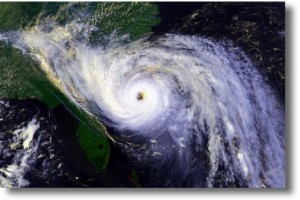 The Hurricanes; First, aside from camping trips and visiting relatives, I have only taken TWO real vacations in my adult life and BOTH were met with Category 5 Hurricanes! (the worst) Isn't that quite a coincidence? My first real vacation was in Aug of 1992, I had a wad of cash from selling some rose business franchises and felt deserving of taking some time off. (a literal wad of cash, I didn't use banks or credit so my instincts on jewish banking must have been pre-activated!) The plan was to jump in my car and tour the parameter of the continental U.S. for a few months. My 1st scheduled stop was for a 3 day stint in Cleveland where an old co-worker (1986-8) Joel Nash (left) lived (me on right).  Coincidently, he's the only self-acclaimed jew I ever knew. However, I'm now aware I've known many but they were cryptos or maranos who didn't share their dirty little secret, that doesn't work anymore though. They stick out like sore thumbs to anyone who's jew aware and open about it like I am. They simply cannot help but try to dissuade others from disliking jewry, it's just what they do. But when I worked with Joel in Phoenix, I had no emotions about jewry one way or the other. And aside from the common eastside vs. westside division narrative popularized by leaders in my home town (who I now know were jews) I simply never bought into any racist or bigoted points of views and always felt everyone was equal. Also, since I didn't know any jews, and 8th grade was my last, I wasn't brainwashed about the holohoax which all Americans become subjected to in later grades. But that was then, now they start way earlier. Those poor, poor jews!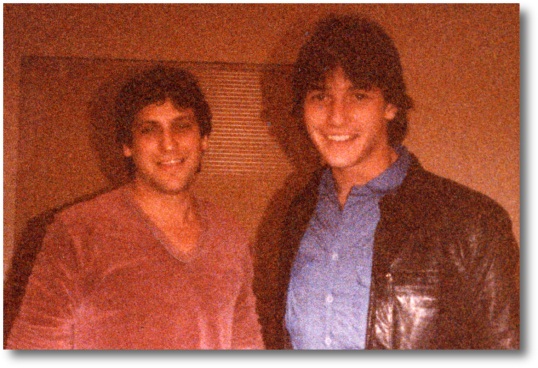 Take Joel's parents, both were rich jewish magistrate judges! They knew I was travelling with a lot of cash so, they warned me to watch out for Eastern Gangs who were "sandwiching" cars and robbing occupants at gunpoint.   Lo and behold, it happened to me after having spent 10 days making my way down a stormy east coast from Maine, through NYC, DC etc, I figured I was out of danger. Not so! The storm in front of Andrew had been picking up steam the entire way and by the time I got to the Carolinas there were power outages and hence chaos everywhere. I was even randomly shot at by a loon while driving down the interstate near Jacksonville! I heard the bullet hit my car but didn't realize what it was until fixing a mystery leak from the hole in the roof just above the driver's side window! I filled it w/silicone and went on my way, it turned out this went on throughout 92' on Florida's I-95. It was late at night near Miami when the hurricane was making landfall. The plan was to be in the thick of it by morning to get some pictures. (I did aerial photography and had my camera so figured, why not?) It was around 1 am when I got off the freeway to gas up and two SUVs, 1 in front and the other behind, tried to trap me between them on the street. Thankfully I was able to jump the curb and go around the one in front of me but it was a near escape. The irony now is it was two jews who told me to be on guard! BTW; Andrew caused deaths of 66 people. I eventually finished my travels to start a new rose market in SD where I coincidently met Peggy and her friends on her B-day . . . HIRED!!!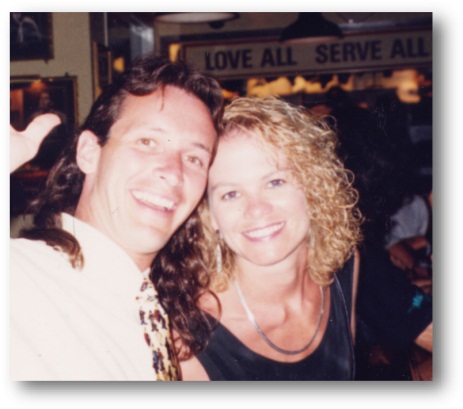 That's Peggy & I out for dinner on our first night in Hawaii, my 2nd vacation. Coincidentally the genocidal jew Bill Gates was also on the island to get married so, he too had to put up with hurricane Emilia; another big cat. 5 and Hawaii's largest since 73. This stood to really screw up our plans for a helicopter flight and a sea diving expedition we had scheduled, the latter of which we'd just gotten Peggy certified for back at home. To add intrigue to our trip, 3 helicopters crashed on the isles during the week leading up to our scheduled flight which of course was at the height of the storm. I used choppers for photography but Peggy was really looking forward to it so we went anyway, no problems, then we jumped on the dive boat the next day. They almost called it off due to 12 to 18 foot waves on a 25 mile cruise to get to the dive site at Lania. With all the commotion going on, the dive boat crew forgot to ask some critical questions regarding everyone's certification level which Peggy and I were only "open water" certified. (no deep dives, caving or other dangerous/advanced dives) The next thing we knew we were at 120' in shark infested H20 headed for a dark lava tube w/a cave at the end!
The thing to remember about all of this nature related stuff is what we covered in issue #115, that being "geoengineering". Do you think God/s can control the weather? If you were a/God, how would you go about conditioning an average human servant to have faith and be courageous? To what end could you and would you go? Am I saying all of this is a sign from God? Hey, I don't know how else to explain any of it, we should all know by now there are very few actual "coincidences" in this world! It's an odd thing trying NOT to believe in coincidences isn't it?! Along with struggling to believe all of this crazy shite is happening at all, we're challenged to accept and believe it's not happenstance! That is Gods' entire point here. And he started early with me, making sure that virtually EVERYTHING surrounding my existence would be so wildly against even the most impossible odds that anyone with the slightest inclination for his love and truths would have reason for taking pause and getting things straight before returning to see and be judged by him. For anyone who doesn't believe in the afterlife, I pose a question; if Google is already patenting the technology to transfer ones' entire life of memories, attitudes and beliefs (our souls) into a robot, what could God/s (highly advanced ET/s) do with you? Look, I'm trying to tell you to listen to me because this is SERIOUS and also because it's not me who's behind all of this!!! I'm only here to do my best at informing as many as I can of the evil deceptions we face which God has given me both a bulldog like tenacity to find along with an uncanny ability to understand and dissect. And now he is surely providing you and I with copious amounts of proof this is real because he knows we've all been propagandized and deceived into oblivion by the evil f*ks who are running this world. And just to let you know, I could go on and on and on with tons more of this kind of stuff, finding miracles is becoming a daily experience for Peggy and I. But we've only got a page left so let's revisit my b-day which came after my mom had 3 miscarriages! Is that unusual? Recall that 3 minute diff. in my time of birth from being EXACTLY 36 yrs (6x6), 9 mths 11 days from the tower falling on 9/11 @ 10:28 am? (That's eastern, I was in central time at 8:31, there's the 2 hrs & 3 min!) And hey, what are the odds of me ever even coming across all of the facts herein? Was I led to them?
And 9/11 is important because YHWH created everything from nothing (zero/alpha) who's a perfect 10 (omega) the beginning and the end like 9 is before 10 and 11 is next . 9/11 surrounds God. It is also a key to 66 because 9×11=99 flipped is " 66 " (note the "66"- "99" quotation marks!  Also look left, and at 66 biblical books, and Allah = 66 in Arabic gematria, and I-66 linking Virginia to DC and this issue #119 / 911)  9/11 is a key number in the ancient mysteries.   So, now we know why the jews chose 9/11 and why it's also notable here with me, it all points to a divine storm churning around us and it doesn't end with nature, indeed, we can talk about far more than just the weather . . .
If you haven't checked out the miracle of 19 site archived on the GG Data DVD, you should! (it's the best one) Of all the research I've done on numbers, 6s and 19s are definitely "where it's at" divinely speaking! Let's have a look at some signs proving their importance to "someone". Multiples of 19 are 38, 57, 76 and 95. Phillips 66 (6×11) ties rothschilds jews and middle east jews to oil all of whom know 19s, 6s and multiples thereof are divine, long known by a higher intelligence.

38 Special was one of the top southern rock bands, the .38 special / 357 mag is Earths' most popular revolver, 57 Chevrolets still reign in fame, Heinz 57 is the largest, most well-known condiment maker, 1776 was America's and the jews' illuminati birth year, more 1776 bicentennial coins were minted than any others, I-95 (where I was shot at and would have been robbed!) is the busiest, most well-known, and arguably most important highway in the US, and windows 95 was the greatest leap forward in computing on earth. You get the point! The gods apparently bless all things 19 and 6, as you'll see that's a beautiful thing for us!!!
Take for instance 19 / 95, the year when Peggy and I officially became a couple and moved out to Tacoma WA, that year was the start of a very special new business which funded and spawned creation of Unified Numbering and hence everything else to date. Keep in mind this is when Peggy and I were planting our roots as both a couple and as entrepreneurial partners so, we were acquiring new #s and addresses. It was at this time we moved to our first home at 1919A (A=1 so, Us and God???) Westridge Ave in University Place. Our first biz phone # was 566-5410 (5410 is the number of times "YHWH" was written in the Bible!!!) I have more to share on that, I first heard this name a few years ago and if it weren't for another coincidence, I might not have been totally confident of its genuineness. Ever since I can remember I've said "a word" to myself (sorry, it's a deer secret I cannot give away, some things are sacred!) whenever I wanted a particular outcome for something, and it has never once failed me, not once ever! Just to let you know, I always figured God was busy enough and that he gave us everything we need to go about our lives so, I don't pray or ask him for stupid crap like money, health, fortune or anything else that's up to me to take care of. That said, every single time I've remembered to use my word for anything, it has worked, without exception! I've used it for so many amazing things you simply wouldn't be able to believe me, even after all this! Well, that secret word ends in weh!!! Yah-weh!!!
This and a few other very strong clues I coincidentally came across recently are how I know YHWH is the correct name of our God. OK, back to that 5410 phone number, it was the most used of any # we have ever had, it got so many telemarketing calls we finally had to let it go and it still rings busy to this day 20 years later because it's useless for anyone else too! It was also at this time we got our first PO Box for the businesses, that address of 3800A (A=1/God) Bridgeport coincidently equals 19+19A of our home address! And we had to get a new mobile number for WA which lo and behold Verizon gave us 380-6300 (bag the zeros for 38 and 6 x 3=18, 6+6+6!) We then got another; 699-0091 (bag the zeros to see 69991, 999 flipped is 666 leaving 61 flipped is 19!) Let us note Biblical languages of Hebrew & Arabic are written/read right to left and jewish satanism is based on opposites. Our 1st home we purchased had an address of 2503 and our area code during this entire time was 253 (2+5+3=10=God) the zip code was 98466. We built our 1st coffee shop at 1 St Helens Ave. That was all of our contact info for this period. Now our current home is at 1 Moonbeam Rd. The odds of all those 19s, 38s, 6s and 1s occurring in a string is one thing, then the fact they're all "God numbers" is another but the real clincher is the fact it all happened to us, all combined is millions to one on just this part.
Please recall from the 2nd AAA the 10 to 20 Trillion to one odds surrounding my name = 666 in English gematria while Peggy and I with completely different names both equal 893 in jewish gematria! (8 x 9 x 3 = 216 or 6 x 6 x 6) So, we're tied at the hip by 666 AND 19s.
My Area Code growing up was 308, the rest was 532 (=10) -7157
My & my Sis's cell #s end in 3022 the Great Pyramids parameter, and 3/22 is spring solstice, 322 is Yales Skull/Bones #, 3x22=66, and 322 of jewish Talmud demands jews enslave gentiles forever
Our current home phone ends in 3828 (and 2+8=10!)
YHWH = 64 and reduces to 1 in Simple Gematria
My birth year of 1964 minus 1900 yrs = 64AD, The Great Fire of Rome set by "Nero" who famously = 666 in Greek gematria
My birth weight/length; 8lbs-8.5ozs, 21.5 in > 8 + 8.5 + 21.5 = 38
Peggy's Birth @ 6:04 am on 6/4/1965 was 6 mths 4 days after mine weight; 9lbs 9ozs (9+9=18 or 6+6+6) @ 21 in long = 39 (me +1)
Peggy's SS # adds up to 38, mine = 44 (38 + 6)
4 cubed (4 x 4 x 4) = 64
And guess how many codons God used to make up human DNA, that's right 64!
There are 64 "UR Runes" (Symbols to the left below) in the I Ching (pronounced Yee Jing and translates as "Book of Changes") an ancient book from China that covers both the events of life and the way of life; it is thus a book of philosophy as well as divination. The I Ching consists of symbols called hexagrams (on the right below). Each hexagram has it's own symbolic meaning, composed from the pattern of

6

broken/unbroken lines which define it's structure. These unique variations create the 64 hexagrams of the I.Ching: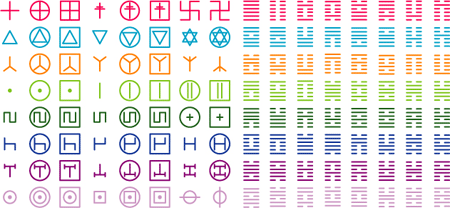 Another positive coincidence from the heebs holding me for 9 mths 11 days, was a cell mate jokingly handing me a Quran, so I read it! Cover to cover and against what we hear in the jew media, I didn't find a single offensive verse, it was a little repetitive but that'd be my only complaint. And here's the thing, later when I was looking for the verse you'll see below I stumbled across the miracle of 19 which irrefutably proves a higher intelligence wrote the Quran after the Bible and it's 666 = 18 (Quran 74:30 "Over it is Nineteen") and how God used the word "EVERYTHING" therein 114 x (19 x 6!) in relation to His attributes, names and actions! Hey, 3 yrs prior I coincidently wrote and named the EVERYTHING Pages, its sequels the EVERYTHING Else Pages and EVERYTHING Page then I made the EVERYTHING Clips and the EVERYTHING Else Clips films which are focused on the fact that EVERYTHING is a LIE and that I have come with THE TRUTH!
Golly gee, it sure is funny how all these silly coincidences just keep on surfacing, over and over and over again everywhere I turn! And let it be known I really could go on and on for many pages with this kind of stuff. I've seen 3 big tornadoes, the 1st a quarter mile from our house. And I was just 1 mile away on the shore from Washingtons largest earthquake epicenter, plus I've predicted many, many things including having Peggy cancel her flight the day before she scheduled it for 9/11. Believe all this or not, the choice is yours. Much is going on!
Quran 17:36; "I have given you the hearing, the eyesight, and the brain, and you are responsible for using them"
Titus 3:10; "Reject heretics (those of false doctrine) after warning them once, then twice"
1 Thessalonians 5:20; "Despise not the prophesying, prove all things (to oneself); hold fast that which is good."
James 4:17; "Therefore to him that knoweth to do good, and doeth it not, to him it is a sin"
Revelation 3:9; "Behold, I will make those of the synagogue of satan who say they are jews and are not but lie, behold I will make them come to bow down before your feet and they will learn I have loved you"
Revelation 21:7 "He that overcometh shall inherit all things . . . But as for

the cowardly, the faithless

, the detestable, as for murderers, the sexually immoral, sorcerers, idolaters, and all liars, their portion will be in the lake that burns with fire and sulfur, which is the 2nd (final) death.
Anti-Semitism now 'fashionable' in the US, warn experts 
Attacks against jews account for 60% of all Hate Crimes despite strong cooperation between the jewish Media and Government Agencies!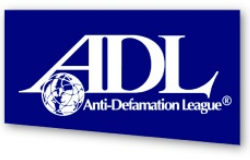 PRESS RELEASE
March 25, 2015
New York, NY
In 2014 Anti-Semetic Incidents Rose 21 Percent Across the U.S. In A "Particularly Violent Year for Jews"

---