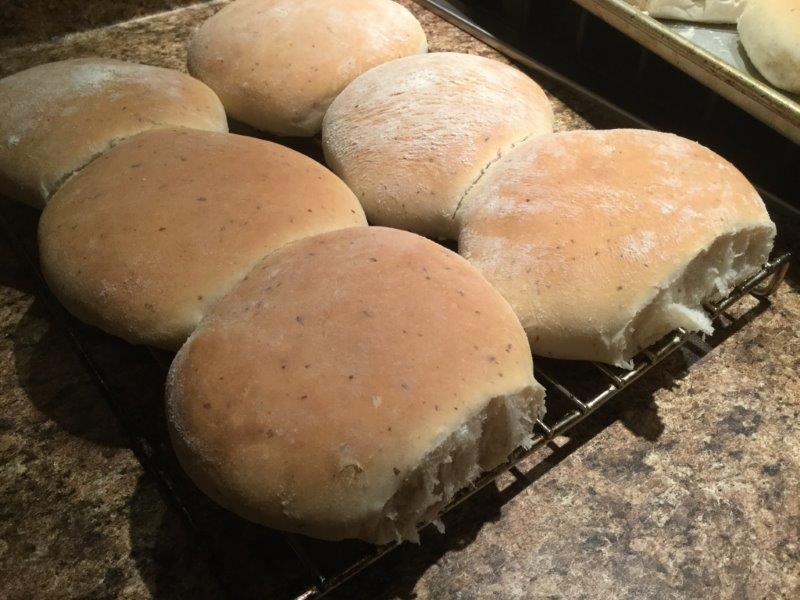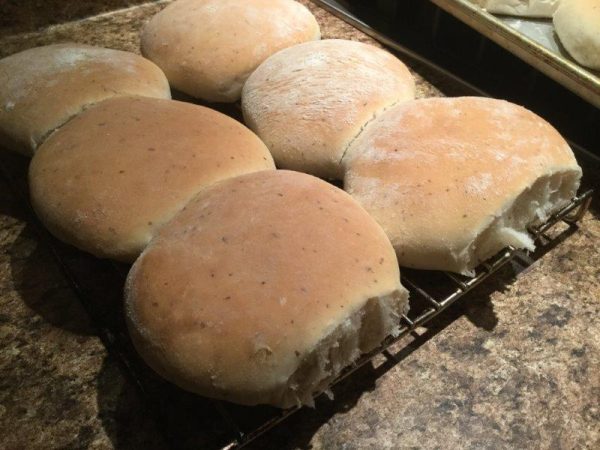 1

cup

Filtered Water

(luke warm temp)

1/3

cup

Coconut Milk

1/3

cup

Refined Coconut Oil

(melted)

1/4

cup

White Sugar

1

each

Flax Egg

(1 T Flax + 3 T Water; allow to set for 5 minutes)

3 3/4 - 4

cups

Flour

(start with 3 3/4 cups)

1/2

teaspoon

Salt

2 1/4

teaspoons

Yeast

(not fast acting)
1

cup

Filtered Water

(luke warm temp)

1/3

cup

Coconut Milk

1/3

cup

Refined Coconut Oil

(melted)

1/4

cup

White Sugar

1

each

Flax Egg

(1 T Flax + 3 T Water; allow to set for 5 minutes)

3 3/4 - 4

cups

Flour

(start with 3 3/4 cups)

1/2

teaspoon

Salt

2 1/4

teaspoons

Yeast

(not fast acting)
Add ingredients as recommended for your bread machine and set to dough cycle.

Be sure to check dough within the first few minutes to see if you need to add more flour.

Remove dough from bread machine.

On well floured surface divide into 8 pieces. Form balls and press out all air bubbles by hand or with rolling pin and flatten into thick discs.

Spray baking baking sheet (13x17) with no stick spray. Place pan on heating pad (set to high) and cover with a tea towel. Allow to raise for 1 hour +

Preheat oven to 350 degrees and bake for 20-24 minutes.
I used this same recipe to make smaller dinner rolls.  Use a 9x13 pan and divide dough into 24 rolls DO NOT flatten balls.  Arrange in a 4x6 grid. (Be sure to spray pan).  Bake at 375 degrees for 11-13 minutes, or until golden brown on tops.